banzeiro
A guide to Amazonian cuisine in São Paulo's capital, Banzeiro, has news. Chef Felipe Schedler has added delicacies to the menu, always presenting the finest Brazilian cuisine with Amazonian ingredients. A great opportunity to taste dishes that are so well known in the north of the country, but the ingredients for which are not easily found in the southeast.
Tambaki ribs (56 reais), a freshwater fish with tender and delicious meat served with a sweet and sour sauce that you can eat with your hands, is already known as a must-have staple for the home. But in the new menu, he appeared in a different dish. In the fried version, it is served with a refreshing salad and crispy egg farofa with uarini flour (82 reais). The world's largest freshwater fish, the arapaima, is also featured in several dishes and in the new Ventrecha de Pirarucu (72 reais) with banana puree, mini carrots and chestnut slices.
As an accompaniment, the drinks menu includes the unpublished Saúva Fresh with cachaca, lemon-lemongrass syrup, infused with ants for a month; and Dedo de Moça Spritz based on vodka, coumaru syrup and pepper.
The new menu at Banzeiro isn't just about fish. There are democratic options that combine flavors and cultures, such as wood-fired octopus (R$159), with potatoes and fonduta made from Grana Padano, flavored with puxuri, seeds native to the Amazon, which are grated. table, bony tongue and coarse arapaima. To share, the menu included beef ribs with bone (230 reais) as an option, roasted for 12 hours and finished in a wood fired oven. They accompany a homemade version of the tropeiro bean with Huarini flour and butter beans. Vegetarians can try grilled banana gnocchi (64 reais), Grana Padano cheese cream and fresh mushrooms.
In "Introduction to the Brazilian Amazon", as the kickoff session is called, Felipe Schedler also brought fresh fried mussels with tucupi and wakame seaweed, as well as two salads that use Amazonian ingredients such as tapioca, fresh chestnuts, cowpea, butter and others. . .
Finally, it's impossible to resist trying the now classic Discovermanaus (26 reais), served in the form of cupuaçu with fruit filling and brigadeiro. But there are must-haves such as cassava cheesecake (26 reais) with yellow fruit syrup, banana brulee with puxuri (26 reais) and moist pie with fresh chestnut (24 reais).
Banzeiro – Rua Tabapua, 840 – Itaim Bibi, Sao Paulo. Opening hours: Tuesday to Friday from 12:00 to 15:30 and from 19:00 to 23:30; Saturday from 12:00 to 16:30 and from 19:00 to midnight and Sunday from 12:00 to 16:30. Phone: (11) 2501-4777. Instagram: @banzeirosp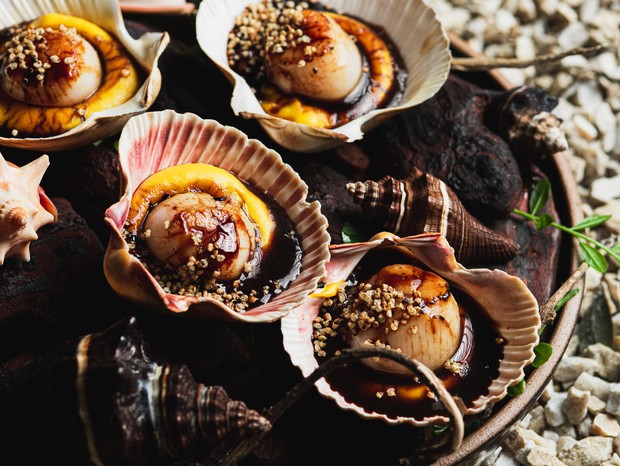 love
Chef Enrique Paredes, who is in charge of Ama.zo in Sao Paulo, has updated the menu with an increasingly signature twist, bringing a modern take on a Peruvian classic with a touch of Brazilian ingredients. Among the ceviches, tiraditos, reasons, chicharrones and various rice dishes, there are such national ingredients as tucupi, rapadura, pepper, persimmon, guava and cupuaçu.
The new menu features Peruvian cuisine that is vibrant, colorful, full of textures and flavors. An example of this is Cebiche Ama.zo (65 reais), which is nothing like a traditional dish. Here it is served hot and consists of marinated fish grilled on a banana leaf, cecina oil (a typical Peruvian cured pork), patacon and ant.
A success since the restaurant opened, rice continues to be the highlight of the menu. New items include Arroz con Conchas (sticky rice with scallops on a plate, grated aji amarillo and girl's finger emulsion, 85 reais) and Arroz com Pato broth (with a touch of coriander and black beer, medium-sized magre and crispy thigh, 120 reais) .
Exotic ingredients from Brazil are present in dishes such as Bondiola Y Tucupi (Pork bondiola at low temperature for 8 hours with candied pumpkin cream and black Amazonian tucupi sauce, 85 reais); Causa Limeña (purple mashed potatoes, smoked shrimp tartare, black tucupi and rocoto acebichada emulsion, 62 reais); and Cebiche Mixto (fish of the day, scallop, octopus and shrimp, Brazilian pepper sauce and coriander oil, R$75).
Finish off with Suspiro Limeño (traditional Peruvian dulce de leche, quinoa and togarashi sigh, pralines and seasonal fruit ice cream, 36 reais) or Crema Volteada (milk pudding and cocoa honey, cupuaçu English crème, chestnuts and habuticaba ice cream, reais ice cream ) 38).
Ama.zo: R. dos Guaianazes, 1149 – Campos Eliseos, Sao Paulo – SP. Opening hours: Lunch from Tuesday to Friday, from 12:00 to 15:30; Saturday and Sunday from 12:00 to 18:00. Dinner from Thursday to Saturday from 19:00 to 23:00. Instagram: @amazoperuano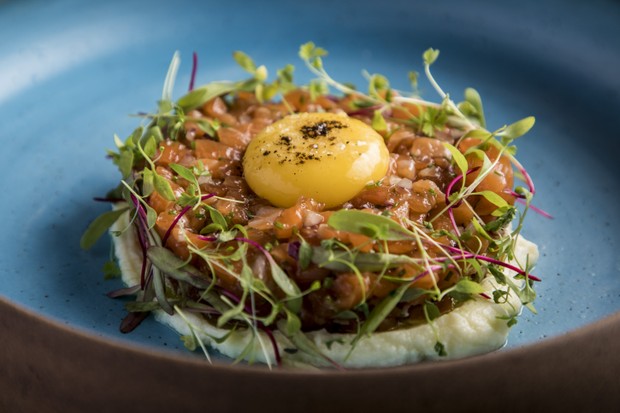 Pappagallo Kuchina
Selected ingredients, flavors and aromas oriented towards Italian cuisine distinguish the cuisine of Pedro Mattos at Pappagallo Cucina, in Hardens, São Paulo. Although it opened at the end of the year, the place has become a social media hit with its famous Bolognese lasagna that sits right on the table, exploding with fondue de grana padano. And now he has news on the menu.
In the first session, Miúdos à Panzanella (59 reais), grilled chicken heart and stomach, roti sauce, red onion, fresh cherry tomatoes, breadcrumbs and basil; Pork cheek croquettes (42 reais) and fried burrata (65 reais) in puff pastry with fried tomatoes, strawberries and basil. The mini burger Polpetone (29 reais) consists of a mozzarella-stuffed half-burger served with fresh tomato sauce and topped with a truffle katupiri in a buttery brioche. And Salmon Crudo (69 reais) with sour cream appears on the table with an artificial spicy mango yolk, which plays the role of an optical illusion.
The choice of meat and seafood is one of the main ones. Among the new products are thermite (89 reais), cooked at low temperature with aligo de grana padano; Arroz de Cordeiro (R$89) cooked in lamb broth with aioli sauce and smoked cream yolk; and octopus with All'amatriciana rice (R$109), made with skinless tomatoes, bacon and cheese.
Finally, a new interpretation of Palha Italiana (R$35) aims to sweeten the palate with semi-sweet Belgian chocolate and homemade sourdough croutons, as well as Arroz Doce Brûlée (R$35) with a crispy crust, milk sweetener and fresh strawberries.
Pappagallo Kuchina: Alameda Jau, 1372, Jardim Paulista – São Paulo/SP. Phones: (11) 3898-6503 and 94735-1381. Opening hours: Monday to Sunday from 12:00 to 17:00 (lunch) / Monday from 19:00 to 23:00 (dinner) / Tuesday to Sunday from 19:00 to 00:00 (dinner). Instagram: @pappagallo.cucina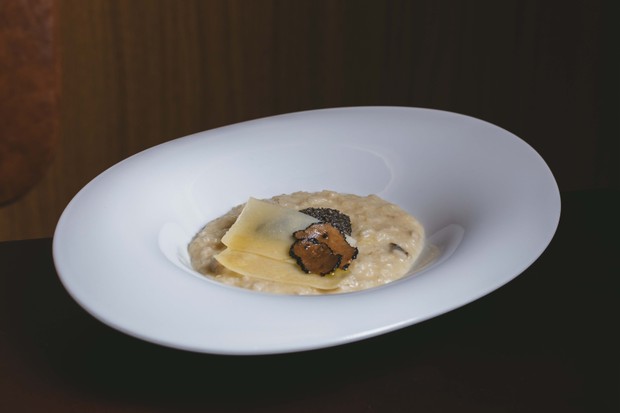 lady
Just four months after Donna opened, Chef André Mifano has already added new items to the Italian-Paulista menu of the restaurant located in Jardins, Sao Paulo. Starting with antipasti, with Donna cacciatori/sopresata (54 reais), fish cured in white balsamic and dill (32 reais), a cup of Pyrenees (47 reais), pecorino romano (33 reais) and sweet gorgonzola from Serra das Antas with uruchu honey (31 real).
And if we talk about special sections, then the menu has just been replenished with positions from the A.MAR project. Here you can order octopus with garlic and spiced oil (72 reais), smoked mussels (46 reais) and squid with shiitake (57 reais). Among the new starters are bruschetta made with a cup, fig and pear compote (32 reais), and wagyu sausage with truffle mayonnaise and pickled red onion, full of flavor thanks to the spices used in its preparation, including cloves, cinnamon, coriander. seeds and bay leaf (67 reais).
The head of the folder welcomes bucatini with lobster, bacon, cognac and tomatoes (R$134), which, despite being the main course, adds a slight sweetness to the palate thanks to the lobster, the star of the dish. There are also three risotto orders on the menu, two of which are vegetarian options: tripolati and umami mushrooms (R$75) and spinach, torn cavolo with buffalo stracciatella (R$73), which along with toasted corn, stewed pork knuckle and saba (79 reais) complete the team in the chapter dedicated to the preparation of this typical Italian dish. Among the main dishes stand out octopus, creamy chickpeas and kavolo fried with garlic and pancetta (185 reais). In conclusion, it is worth highlighting a typical dessert of the Piedmont region: limoncello panna cotta with Sicilian lemon cream and pistachio crumbs (38 reais).
Donna: Rua Peixoto Gomide, 1815 – Jardins – São Paulo/SP. Opening hours: Monday to Wednesday from 19:00 to 23:00 / Thursday to Friday from 19:00 to 23:30 / Saturday from 12:30 to 16:00 and from 19:30 to 23:30. Phone: (11) 97593-9047. Instagram: @restaurantedonna_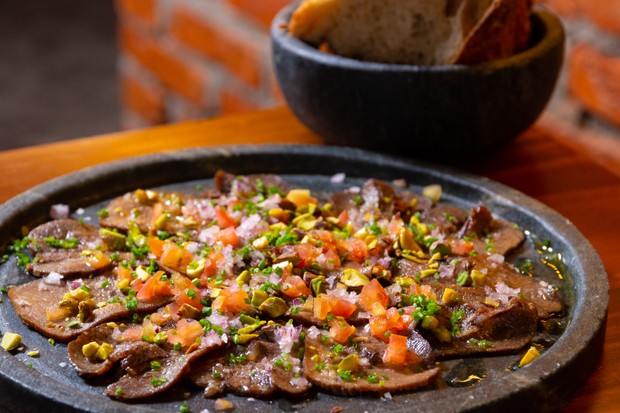 Bottega 21
The laid-back Italian-style bar is ending six months of its existence, adding new dishes and drinks to the menu. The idea is to keep the bar open until late serving typical Italian snacks and food. The menu includes Lingua brasata with donkey and pistachios (R$ 39): beef tongue, thinly sliced, cooked in oil, served with tomatoes, pistachios, green onions and red onions; and Cuore di pollo saltato (32 reales): chicken heart stewed in garlic, Sicilian lemon, chipriano sauce – mayonnaise, Worcestershire sauce, Sicilian lemon and Dijon mustard. Two more novelties: Rigatoni al pomodoro, nduja and bocconcino di bufala, rigatone with red sauce with nduja, buffalo boccotino, lemon zest and basil (46 reais) and Cozze cotte in salsa di pomodoro with its own brodo and pancetta, mussels with bacon, tomato sauce, oil, rosemary, thyme and garlic (39 reais).
Michel Felicio, bartender and partner, lists signature cocktails as Il Nostro Gimlet (gin, grapefruit liqueur with cranberries and cranberry honey), Tutto Spritz (bourbon, dry vermouth, campari, brut sparkling wine and edible flower) and Mezcalito. (tequila, scotch whiskey, coffee liqueur, amaretto, campari and smoked whiskey flavor). Each for 37 reais. "Bottega 21 is a place where you can not only drink well, classic and reputable quality drinks, but also eat very well. Here, food is treated with the same strictness as drinks," says partner Laura Oliveira.
Bottega 21: Rua dos Pinheiros, 1308 – Pinheiros – São Paulo/SP – Phone: (11) 99342-2332 | Opening hours from Monday to Saturday, from 18:00 to 2:00. Instagram: @bottega21bar
.