The proverb already says that "he who is ugly, loves, looks beautiful", and in food, referring to "the ugly" is nothing new. This is, in fact, a reason to celebrate in one of the most popular food shows on Netflix. AT Ugly DeliciousKorean-American chef David Chang shows exactly the delicious ugly dishes he finds in the four corners of the world.
But baking has been marginal in this heyday of the unsightly and imperfect—until now. The pandemic and self-isolation have given rise to a school of new confectioners who have found similar precursors to a maximalist approach to confectionery on Instagram. These are dirty, grotesque, even kitschy cakes. Ugly cakes? Maybe for some.
In Lisbon, Pedro Brito, At 27, he began getting his first oven experience sometime in 2020. "I've always had a relationship with baking, but in an informal, familiar way," he tells Time Out. During the pandemic, he started decorating cakes "for fun." "It was for fun. My friend was supposed to have a birthday and he said, "Make me a birthday cake." Having studied graphic design in Lisbon and fine arts in Caldas da Rainha, he was in awe of the creativity of what he had in his hands and it took me some time to create the @crackedbolos Instagram page. "Soon, people I didn't know started placing orders with me, and from then on, I didn't even have time to think too much, I just started trying things and responding to customers," he says.


The taste may be questionable for some, but there is an aesthetic consistency in the creations featured on the digital showcase. "It seems to me that there is something cartoonish in cakes, from the world of animation. My original idea was to make cakes the way I imagined them when I was little. A giant cake with a strange structure that seems to be more like one almost sculptural and funny object," he explains.
However, when one reads the essentially praises from fans of this unorthodox patisserie on the internet, opinions outside of the comment box are divided. "There are bad reactions, people who find it almost disgusting, but I also find it funny to joke about it. There is a very visceral reaction to food, especially when it looks strange, "he says, not hiding the ironic intentionality in what he does. "I decorate it until I have a click that is in some way absurd, funny or there is something that causes a reaction.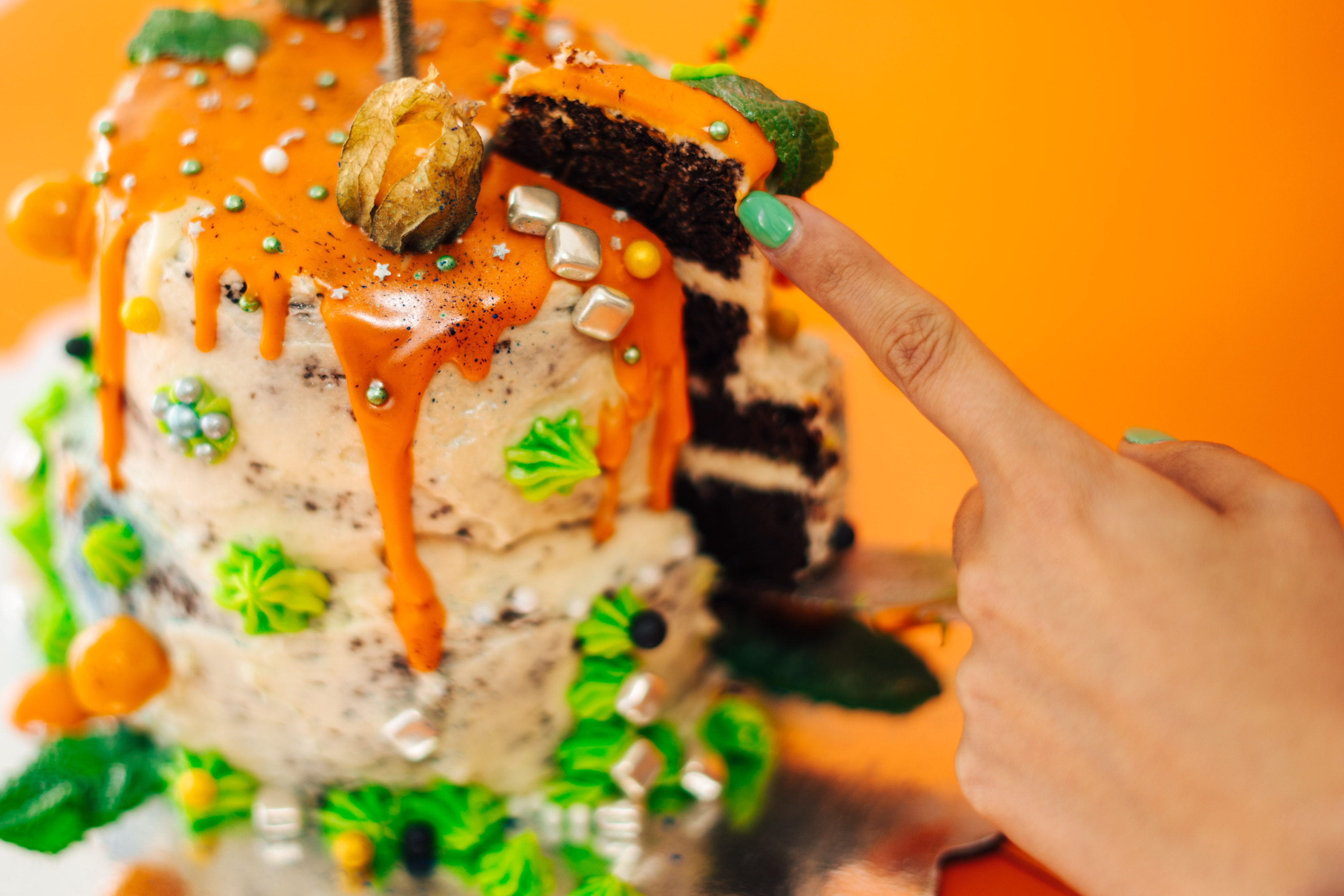 And if in aesthetics it is supposed to challenge the standards, then in the tastes of Pedro it is more restrained. "Now I do safer things in terms of taste," he admits. Nowadays, cake options are based on classics such as chocolate, lemon, vanilla or carrot, for example, leaving the biggest feature for mocha and spice or orange and cardamom options. "Because cake is common to a lot of people, I try not to risk too much in terms of taste to please the group." As time goes by, he hopes to "expand" and venture into flavor combinations "to also 'play right' with the look".
Cracked Cakes are currently only available for delivery in the Lisbon area. Orders are taken online and cakes can be picked up free of charge in the Peña de France or Cais do Sodre area with a payment of €5. A cake with 20-24 pieces costs 50 euros, while a cake with 44 pieces can cost 95 euros.
Instagram @cracked.bolos. crackedbolos@gmail.com
+ Best cakes in Benfica to eat and lick some more
+ Best desserts at home