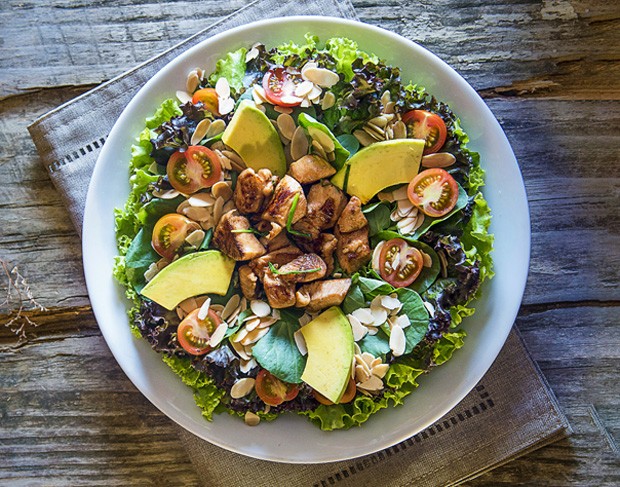 To turn leaf salad into a real meal, Tartuferia San Paolo has prepared a recipe with chicken, avocado and a delicious honey sauce! The dressing takes 2 hours and the salad 25 minutes. Makes a portion.
+ DETAILS: SALAD, FRUITS AND MACADAMIA
+ DETAILS: SALAD WITH GOAT CHEESE
Ingredients
honey sauce
½ teaspoon tahini;
¼ cup honey;
½ cup apple cider vinegar;
½ tablespoon soy sauce;
½ cup apple juice;
2 tablespoons extra virgin olive oil;
A pinch of black pepper;
1 tablespoon Dijon mustard.
Salad
100 grams of mixed leaves (purple, curly lettuce, arugula and frisee lettuce);
100 grams of chicken fillet;
5 cherry tomatoes;
¼ teaspoon salt;
1 tablespoon soy sauce;
1 tablespoon green onions;
4 tablespoons chopped almonds;
4 slices of avocado;
1 teaspoon white truffle olive oil
¼ cup honey sauce
+ MORE INFO: 10 LETTUCE SALAD RECIPES
+ DETAILS: LEAF, VEGETABLE AND SEA MUSHROOMS SAUCE MIX
way to do
honey sauce
one Mix all ingredients in a blender.
two Let it brew for 2 hours in the refrigerator.
Salad
one Cut the chicken fillet into small cubes and season with soy sauce and salt.
two Place on grill until golden brown.
3 Sprinkle chicken with green onions and set aside.
four Gather the leaves around the edge of the plate. Start with curly lettuce, then purple lettuce, arugula, and finally frisee lettuce.
5 Place the chicken in the center of the salad and scatter the almonds and tomatoes around.
6 Place avocado slices around as well.
7 Drizzle with honey sauce and white truffle oil.
+ READ MORE: 10 SALADS WORTH FOR A FULL LUNCH