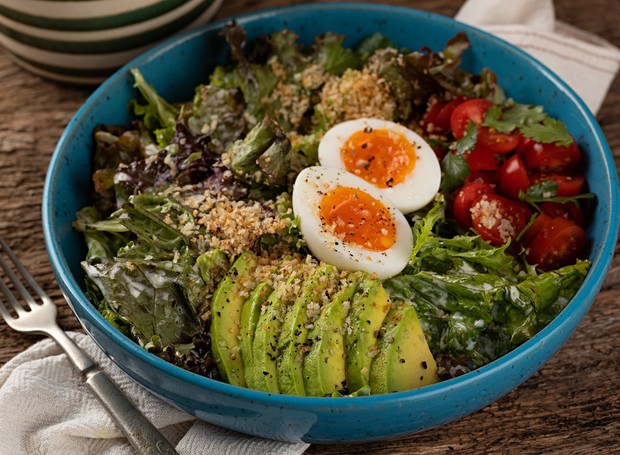 cooks Lucas Lemos as well as Lelena Caesar, from Lamare, teach you how to make a delicious and refreshing avocado and leaf salad. The recipe includes a creamy sauce based on mayonnaise and cilantro, as well as hard-boiled eggs.
Ingredients
140 g of a mixture of leaves of your choice;
½ chopped avocado;
2 eggs;
20 sweet grape tomatoes, halved
20 coriander leaves;
½ cup cream sauce;
1 tablespoon extra virgin olive oil;
fleur de sel to taste;
cream sauce
6 tablespoons of mayonnaise of your choice;
10 coriander leaves;
2 tablespoons extra virgin olive oil;
1 teaspoon white vinegar.
Preparation mode
one. Mix mayonnaise with cilantro, oil and vinegar. Add a pinch of salt and set aside.
two. Place in a medium saucepan of water to bring to a boil.
3. After boiling, add eggs and cook for 7 minutes. Remove and immediately place in an ice bath. Let cool, peel and set aside.
four. Toss the tomatoes with the cilantro, olive oil and a little fleur de sel. To book.
5. In a bowl, mix the leaves with the cream sauce and place on a plate of your choice.
6. Top with sliced ​​avocado, seasoned tomatoes and half an egg.
7. Add egg and avocado herring blossom seasoning and serve.
.