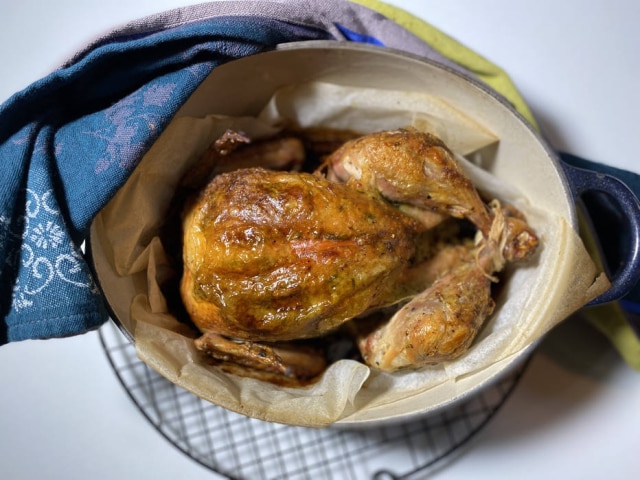 Fried chicken in a pan Photo: Patricia Ferras/Estadão
Once you try this pan fried chicken, you'll have a hard time going back to buying chicken from the bakery… Looks spectacular. This is an adaptation of a French recipe, very simple but requires care: choose a quality chicken, preferably organic, free-range; do not save on butter; fry the chicken in an iron pan (or another with a lid that can be sent to the oven).
Training
one Rinse and dry the greens well and chop in a food processor. Leave half in food processor and blend in half the butter. Season with salt, pepper and the juice of half a lemon. Beat until a paste forms. Leave the remaining butter and herbs for the filling.
two Heat the oil in a frying pan or large saucepan, lay the chicken on its side and let it color the thighs and breast on the sides. Turn over and brown the other side. Transfer the chicken to a work board.
3 Season with salt and pepper.
four Cut the lemon into slices and lay them on the inside of the chicken.
5 Using a sharp knife, remove the skin from the chicken, being careful not to break it, you just need to loosen it around the edges. Gently lift the skin and spread the oil paste between the meat and skin.
6 Place an empty, covered iron skillet in the oven over high heat and heat for 25 minutes. While the skillet is heating, prepare the filling: beat the bread in a food processor until crumbs form.
7 Melt the remaining butter in a skillet, add the minced garlic and sauté quickly (about 30-40 seconds). Add remaining herbs and ground bread.
eight Season with salt, pepper and remaining lemon juice. Let stand for a while, stirring. Taste and adjust seasonings if necessary. Remove from heat, wait until it cools down and stuff the chicken. Tie the legs of the bird with thread.
9 Take the tray out of the oven. Open and line the bottom with a sheet of baking paper. Place the chicken in the skillet, cover and roast for 1 hour over high heat.
ten Remove the lid and brown the chicken (about 30 minutes). To test doneness, pierce with a fork, if clear liquid comes out, it's done. If it is reddish, it is still raw. Let stand 10 minutes before slicing and serving.