published on 12.06.2022 07:15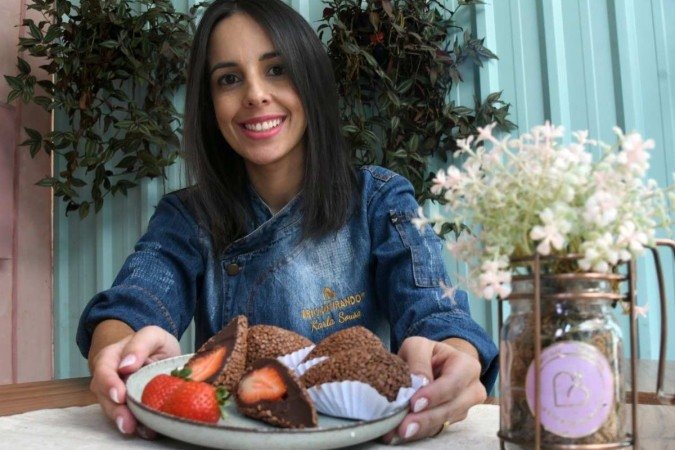 (credit: photo: Ed Alves/CB)
Karla Souza often says that gastronomy literally saved her life. At the age of 17, the girl was engaged in the gym when she had her first crisis of absence. "The only reason I didn't get hurt was because the boy next to me realized that something was wrong and took the weight that was supposed to fall on top of me," he recalls.
A neurological disease, an absence crisis causes a person to disconnect from the outside world for a few seconds. Then she returns to her previous activities, not even noticing the moments when she "suffocated". Karla was diagnosed quickly, but her life was put on hold. "I was finishing high school full of plans to go to architecture school or journalism school, and suddenly everything stopped."
Since she could have a crisis at any moment, the Brazilian woman began to live in shock, which caused panic attacks, anxiety and depression. The university entrance project was put on hold, and from the age of 17 to 22, Carla sank into depression. Very religious, she asked God to give her light.
Since the wedding was planned, Carla decided to fashion her and her fiancé out of sponge cake to put on the cake. With the ease of manual work, he researched, studied and brought dolls to perfection. So much so that the guests were delighted and word of mouth began to ask her to make dolls. It was 2007 and no one else was doing anything like this in Brazil. "Personalized cake toppers have been a big hit. I even sent them abroad," he recalls.
The profession diverted the attention of the young woman from the disease. Over time, the absences disappeared and the depression became controlled. But she wasn't happy. I didn't like working with cookies and I wanted to give life a different meaning.
The daughter of a baker, Carla grew up watching her mother prepare cakes, sweets and snacks. At the age of 12, he even began to help the matriarch with orders and, thanks to such observation, he learned the secrets of the world of sweets. However, she never considered it a profession. I even had family parties, but always as a hobby.
In 2009, Brazilians decided to celebrate their niece's birthday. She made a cake and cupcakes and posted them on social media. The party was a success, both for those present and for those who saw the production on the Internet. "Because I knew many brides from personalized dolls, a client came to me asking me to make 400 cupcakes and a fondant cake for her wedding," he recalls.
She accepted the challenge even though she had never baked a fondant cake. "Mom told me I was crazy," he laughs. Not only did everything go well, but through word of mouth and social media, Carla's sweets and cakes became a hit, and orders continued to come in. Brasiliana had finally found what made her happy and was ready to move on with her life. "This was the door that God opened for me. The food saved me."
everything from the foreman
Faced with success and constant orders, Carla decided it was time to open a physical store. Thus, in the southwest, Brigadeirando appeared in 2010, when brigade gourmets became a fever in Brazil. In addition to popular sweets and cakes, the bakery offered cupcakes, which customers liked at the very beginning. The following year, he opened a branch in Aguas Claras and in a short time, four stores were opened in the Federal District.
The baker also started investing in desserts that were served in a cup. "Our strength has never been in the brigadeiro as such, but it is present in almost all the sweets that we offer – in coffee grounds, in cake toppings, in ice cream icing …", he gives an example.
When the pandemic hit and the lockdown that followed, Carla and her husband, who is her partner, realized they couldn't run the shops, pay the high rents, and all the other expenses. Then in July 2020 they decided to close all divisions. "We were isolated and my children, who stayed with my mother while I was working, could no longer have contact with her because of the risk of infection," he recalls.
Then it was necessary to come up with a new working model. In September 2020, the baker opened a shop in Aguas Claras only for the production and export of cakes and sweets. For logistical reasons, cupcakes and their toppings, as well as desserts in glasses, did not work in this takeaway model. "So we decided to work with sweets that didn't have to be collected on site and only offer those that were on display."
Sweets with fast delivery became the flagship, including when Brigadeirando reopened a physical store at 407 Sul. The menu includes ice cream cakes, sweets, foremen, pavé cups, honey bread, mini cakes and other goodies. "Some weekends we promote festivals like French toast, cupcake, carrot cake, donuts," he lists.
Cake orders and party preparations are in full swing, and the Brazilian company is set to launch a savory menu soon. "I like to cook. And not just sweets. When I come home after a tiring day, my hobby is to go to the kitchen," he says. No wonder she attributes her treatment to gastronomy. Absence crises and depression are gone. "I just have to say thank you."
strawberry drumstick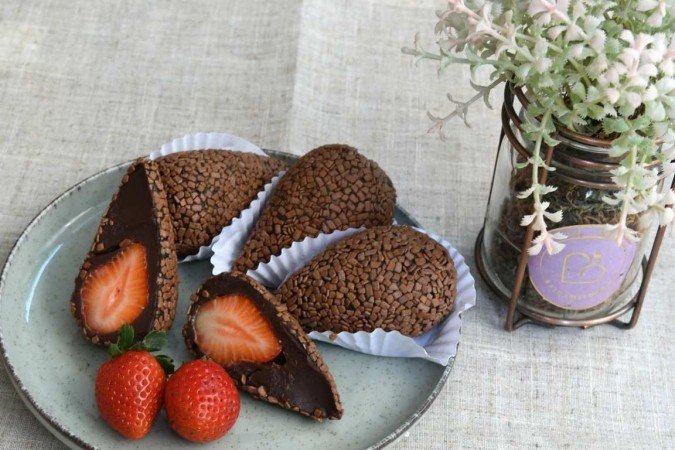 Ingredients
brigadeiro
1 condensed milk
100 g sour cream
3 full tablespoons of chocolate powder (50% cocoa) or 100% cocoa
1 tablespoon butter
Sprinkle or grated chocolate for coating
1 tray of strawberries to stuff drumsticks
way to do
Place all ingredients over medium heat and stir until they begin to curdle – when they come off the bottom of the pan.
Place it in a bowl, cover with plastic wrap in contact with the brigadeiro to keep it from forming a film, and refrigerate to chill.
Wash and dry the strawberries, remove the leaf.
With buttered hands, form brigadeiro balls, cover the strawberries in a coxinha shape, and then sprinkle with sprinkles or grated chocolate.
SERVICE
Instagram: @brigadeirando
Address: CLS 407, block A, shop 16
.