Green salad with passion fruit dressing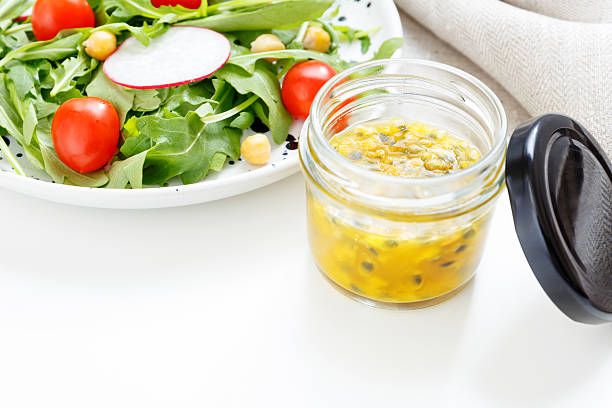 Salads are a great option for a quick, healthy and low-calorie snack. But of course they don't have to be boring! Using sauces, you can turn a simple salad into a restaurant-worthy recipe.
This passion fruit dressing will elevate your daily salad to a level you will fall in love with. Passion fruit is a fruit rich in flavonoids, vitamin A, and vitamin C that can help treat various conditions such as anxiety, hyperactivity, and sleep problems. It is also rich in potassium and magnesium, as well as fiber.
GREEN SALAD WITH MARACOTA SAUCE
INGREDIENTS
– 1 small bunch iceberg lettuce
– 1 small bunch of arugula
– 1 small bunch of boiled broccoli
– 2 grated carrots
– 10 cherry tomatoes
– 200 ml olive oil
– 1 tablespoon yellow mustard
– Salt and pepper to taste
– juice of 1/2 lemon
– 2 passion fruit (pulp with seeds)
– 2 tablespoons of honey
THE WAY TO DO
– Combine all salad ingredients and turn over.
– In a container, mix well the olive oil, mustard, lemon, salt and pepper. Add passionfruit pulp and honey.
– Drizzle dressing over salad and serve immediately.
NOTE. You can substitute the leaves and use the vegetables you like best.
Enjoy your food!
Do you have questions about this or other topics? Send an email to nutricao@corp.bibliomed.com.br with your name and follow our messages for the answer.
Copyright © 2022 Bibliomed, Inc.
Leave your comment
Comments