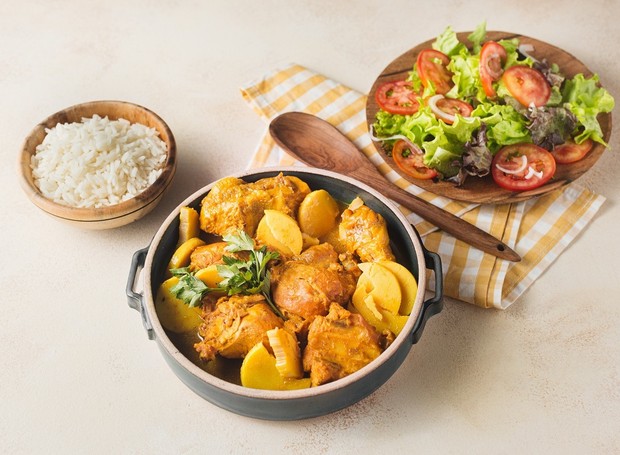 Guariroba is a kind of slightly bitter palm heart that pairs well with chicken. Cook Rosineide Diaz dos Santosfrom the Espetos Mais restaurant in Goiania, teaches a simple recipe that takes 40 minutes to make and makes four servings.
Ingredients
1 kg free-range chicken, cut into pieces
1 tablespoon of white vinegar;
1 small lemon;
300 g fresh guariroba, sliced
4 tablespoons of corn oil;
1 teaspoon of sugar;
1 onion diced;
½ tablespoon of turmeric powder;
3 crushed garlic cloves;
1 teaspoon black pepper;
½ tablespoon without a hill of salt;
the smell of greenery to taste.
Preparation mode
one. Wash the chicken fillet under running water with the addition of vinegar. Drain and reserve.
two. Boil a pot of water and lemon juice and cook the guariroba for 5 minutes. Drain and reserve.
3. Heat the corn oil in a pressure cooker, add the sugar and stir quickly until golden brown.
four. Then fry the onion with turmeric for 5 minutes.
5. Add minced garlic and chicken pieces, stirring slowly until meat is golden brown.
6. Add half a cup of hot water to the saute and carefully scrape any caramelization from the bottom of the pot.
7. Add black pepper, half a level tablespoon of salt, boiled guariroba and enough hot water to cover. Cook under pressure for 25 minutes.
eight. Remove from heat, open the pot and check the sauce: if it is still too thin, simmer over high heat for 5 minutes to evaporate the water and thicken the broth.
9. Season with salt if needed and sprinkle with chopped parsley.
.