Healthy Chicken Curry with Vegetables You Can Eat Without Guilt
An offer from nutritionist Catia Carvalho Silva. A great option for those who have little time to cook.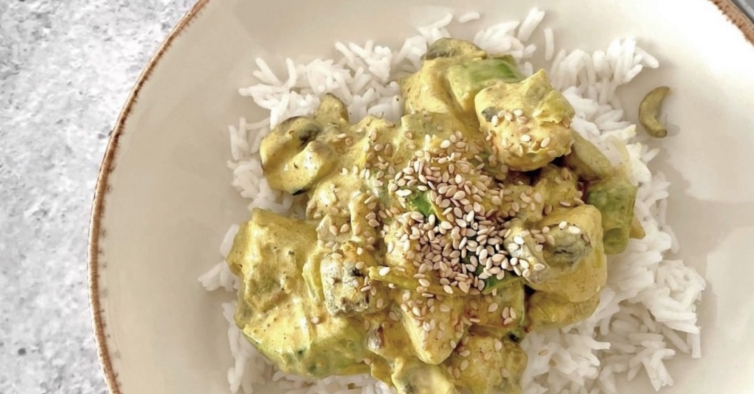 Follow the nutritionist's recommendations.
In the bustle of everyday life, between the duties of professional, social and family life, there is not always much time left for preparing complex and long dishes. Save them for the weekend and learn how to cook simple and delicious meals that won't take much of your time and are nutritious at the same time.
If you like spices and more exotic dishes, we offer chicken curry with vegetables, a recipe created by nutritionist Catia Carvalho Silva, who will tell us what ingredients to use for a meal for four, perfect for the whole family.
What you need
– 2 chicken breasts
– 1 large zucchini
– 1 pack of fresh mushrooms
– 1 pack of fresh asparagus
– half a package of light soy cream
– 2 teaspoons curry powder
– 2 teaspoons garam masala spice mix
— Pepper and salt qb
– Garlic powder
– Olive oil
how to do
To begin, rinse the zucchini, mushrooms and asparagus well. Cut the vegetables into small cubes and place in a non-stick frying pan with a tablespoon of olive oil. Let it simmer for a few minutes and set aside. Then cut the chicken breasts into cubes and fry them in a tablespoon of olive oil.
Add vegetables to chicken, add soy cream and season with spices, salt, pepper and garlic powder. Let stand five minutes, stirring well. Finally, adjust the seasonings if necessary. Serve with basmati rice or, if you prefer a lighter option, with cauliflower rice or salad.
Browse the gallery and find several recipes suitable for different diets – gluten-free, low-carb or vegetarian – that you can easily prepare for healthy and nutritious lunches.