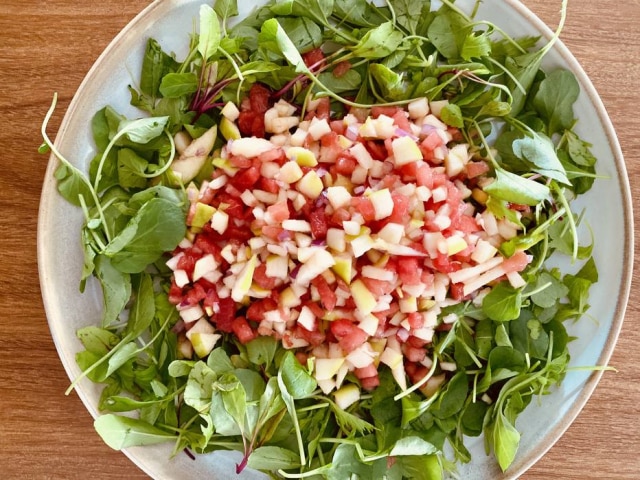 Watermelon, green apple and lemon are a refreshing combination. Photo: Patricia Ferras/Estadão/Ceramica Muriqui
Have you ever thought about mixing watermelon as well as green apple with a touch of lemon? This is an absolutely refreshing combination. Simplein Yotam Ottolenghi, which was released late last year in Brazil by Companhia de Mesa. You can't help but like this book. Israeli chef who moved to London, opened restaurants and taught amateur chefs around the world to play with Middle Eastern flavors. Sumac, harissa, pomegranate syrup, lemon jam…
He is creative, talented, has a special gift for creating daring combinations, deals with vegetables like no other, and his cuisine is a fine portrait of modern gastronomy. I am a devoted fan and I collect his books, which I always refer to – all seven are on my bookshelf, side by side. Simple, in my opinion, the least surprising of them, I learned several dishes from other books in the new version, with the exchange of products. Still worth it. I guarantee.
I used the combination of watermelon, green apple, and lemon described in the book, but added red onion (to contrast with the sweetness of the fruit) and a variety of leaves (I used watercress sprouts, beets, and frisee lettuce). It was the perfect salad for a hot day.
Training
oneCut the watermelon into thin slices, remove the peel and seeds. Cut the slices into strips and then into cubes.
twoWash and dry the apples, leave the skin on and cut into slices, straws, and then cubes the size of a watermelon.
3Combine watermelon, apple, onion (if using) and lemon zest. Add lemon juice little by little (taste each time, don't use the whole lemon), season with 2 tablespoons of olive oil.
fourWash and dry the leaves, put on a serving plate.
5Drizzle the leaves with the remaining olive oil, some remaining lemon juice and salt. Mix chopped fruit.