From the Portuguese stew, it is said to be the most famous of the traditional Portuguese dishes. The first written approach to this specialty dates back to the 17th century, when D.Rodriguez on Sundayscook Royal House of Portugal was the first to write a culinary treatise in Portuguese entitled "Kitchen Art", from 1680, and where he considered Portuguese stew to be a very rich dish, where there was no shortage of partridges, rabbits and pigeons. The ingredients have changed over time, and today there are slight differences depending on the regions of the country where it is prepared, but this dish is still enjoyed by almost everyone.
Manuel's kitchen
It is one of the custodians of the regional cuisine and remains a safe haven in the city center. Take a long stroll around the lobby with a counter perfect for the shortest meals of the week right next to you. Duck rice on Tuesdays, offal on Wednesdays and Saturdays, and cooked on Thursdays in winter justify frequent visits. Without drastic changes, A Cozinha do Manel relies on conventional cuisine, with right hand and wood-fired oven, expertly handling roast goat and veal. On the way back, be fascinated by the items, photos, and messages. Average price €25.
Rua do Heroismo, 215, Porto. Tel. 919 787 598
Matthias Tavern
If there's still space at Tasquinha, grab a table overlooking the tower and bridge and enjoy the scenery with a glass of sparkling wine in hand. Then know that it will be difficult for you to make a choice, as the menu is extensive and consists of regional dishes. Tasquinha do Matias has corn in a pot, patanisca with vegetable rice, gilt with potatoes, and a variety of meats and fish, all grilled. On certain days, Portuguese stew, grilled loin with rice and stew and, of course, egg pudding for a beautiful finish. Average price €20.
Rua da Ponte de Ucaña, Ucaña. Tel. 254 678 241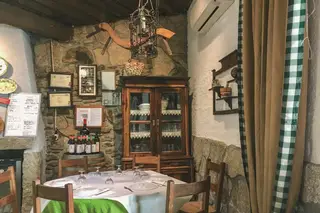 Casa d'Iren
The best dishes of traditional regional cuisine are served at the table in this cozy room. With a large table and a full plate, in good Beira style, dishes such as the octopus and oven-baked cod that have made the house famous stand out. As for the meat, there is also no shortage of stars, such as the fried baby with migas de grelos or Portuguese-style stew. Irene Frias, owner and chef of Casa D'Irene, who also serves at the table, is a local woman who gives her body and soul to this home of hers, welcoming each customer as if they were family. Average price €25.
Largo do Olmo, Malpartida. Tel. 271 574 254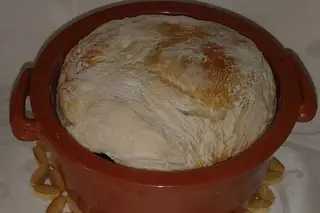 Olea restaurant
On Sundays, a Portuguese stew is made to order, cooked in a clay pot, in the oven, covered with flour dough to make a lid. This is a big novelty for this restaurant, now run by Chef Margarida Graça, who still uses olive oil as the main menu theme. Olea restaurant offers a new executive menu every day for lunch, but there are also other new items on the menu, such as migas à moda do lagar, grilled cod with olive oil or trout stuffed with serrano ham. Average price €30.
Olive Oil Museum, Travessa dos Vales, 7, Bobadela. Tel. 238 603 095
ears
Opened more than two decades ago by Paulo Travassos, this house has opened up a Portuguese product and recipes from the regions of the country. The wine cellar is visible in the restaurant hall. There are over 250 references strictly recommended for perfect harmony. His father, António Travassos, shows what a great cook he is. At O Orelhas you can find oven-roasted cod, duck rice, cabidela and portuguese stew worth considering as each dish is prepared with the utmost care. Finish with generous farofyas. Average price €20.
Rua Cesário Verde, 80, Queixas. Tel. 214 164 597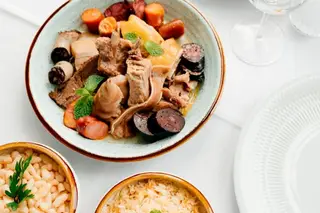 O Nobre by Chef Justa Nobre
To the delicacies of the day, such as bean stew with pork ribs and the Portuguese stew buffet on Sundays, probably the most popular stew buffet in Lisbon, made with bisar meat, the finest sausages and ingredients, seasoned with some secrets only one knows Justa Noble. Chef Justa Nobre's O Nobre combines classics such as spider crab soup, à Justa sea bass loin and roasted goat leg. Average price €30.
Avenida Sacadura Cabral, 53 Lisbon. Tel. 217 970 760
Curians
This is one of the most famous restaurants in Lisbon's Alvalade district and has one of its ambassadors for this dish, which has already received awards for its Portuguese stew recipe. Generous, with first-class sausages, fatty pieces of chicken, beef, pork, as well as turnips, carrots, chickpeas and rice water. The Os Courenses restaurant serves it on Thursdays and Saturdays for lunch. You can always choose a half dose and booking in advance is recommended as demand is high. Average price €20.
Rua José Duro, 27, Lisbon Tel. 218 473 619
Aunt Matilda's Winery
Despite the wide range of regional dishes, lunch on Tuesdays is dedicated to the Portuguese stew. Beef, pork ribs, chispe, sausages, obligatory vegetables, nothing is left out. Adega Tia Matilde is the art of good food in Lisbon and will always be remembered for being the favorite restaurant of "King" Eusebio and of course for the friendliness of its owner Emilio Andrade, honored in 2021. with Boa Cama Boa Mesa guide career prize.
Average price €20.
Rua da Beneficência, 77, Lisbon Tel. 217 972 172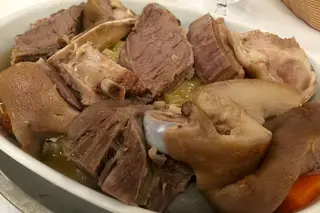 David da Buraka
It started as a tavern serving snacks to become a symbol of traditional cuisine. Designed for large groups, it stands out for its traditional food and attention to customers, some of whom have been visiting it for generations. Stew at the David da Buraca restaurant is served on Thursdays, but keep in mind that one plate is enough for two. And there is always the opportunity to ask for a refreshment from sausages or your favorite meat in the kitchen. From 20 euros.
Estrada da Buraka, 20, Lisbon. Tel. 217 606 247
to follow good bed good table on Facebook, Instagram and twitter!