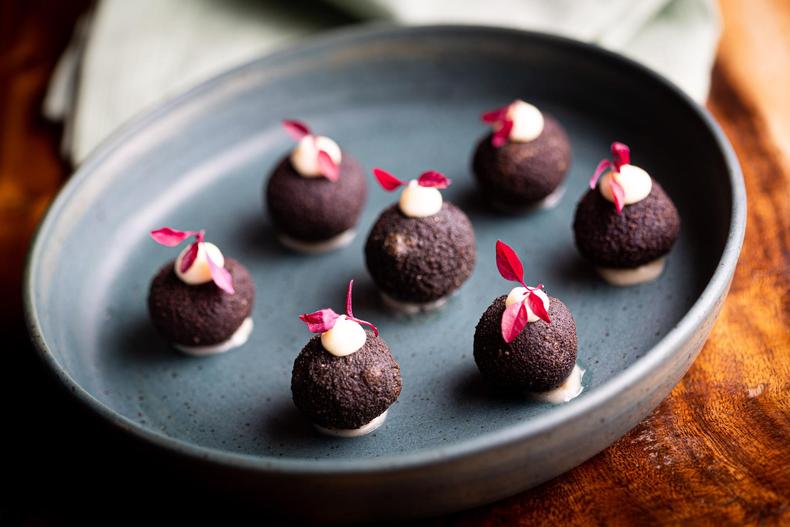 A meeting to celebrate what's new and good in the city. The Festival of Gastronomy and the Arts (FIGA) debuts in Belo Horizonte from Friday to Sunday with the mission of highlighting a new generation of chefs who are still little known to the general public but stand out for the quality of their dishes. Job.
This will be the first gastronomic festival in the gardens of the Palacio das Mangabeiras, which opened less than two months ago as a park.
The curator is 36-year-old chef Jorge Ferreira, who is part of this group of new names in gastronomy. He worked at Gluton for a long time, and today he has his own restaurant, Olivia.
"As a chef of a slightly younger generation, I was thinking about how to evaluate new chefs who are not quite established in the market yet, but have experience and cook good food," he notes.
Figa combines Jorge's ambition to promote gastronomy in BiH with his partner Didio Mendes' experience as an event planner. "I am in love with this city, deep down I consider myself Belo Horizonte and would not trade BiH for any other place in the world. I feel at home here," emphasizes the chef from Sao Paulo, who has lived in the state capital of Minas Gerais for 14 years.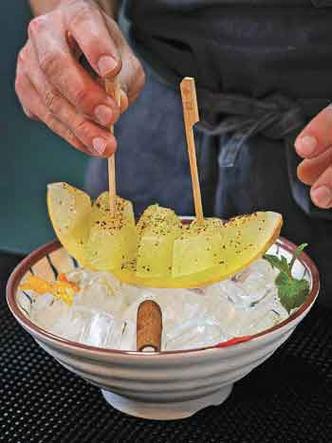 31-year-old Sofia Marinho will take part in the festival in BiH for the first time. For her, this will be an opportunity to show her kitchen to a wider audience and communicate with colleagues of a new generation. "The festival gives insight into our work and opens the door for more people to get to know us. In addition, there is the problem of networking," he estimates.
The chef has worked with Leo Paixao (at Glouton and Nicolau) and with Massimo Battaglini. In Pipa (RN) there was a restaurant and a cafe. Since 2018, he has been pursuing a solo career with BH, conducting classes, consultations and events. Three months ago, he opened A Cozinha de Sofia, a space dedicated to gastronomic encounters.
At Figa, Sofia will serve empanadas, which have been part of her history since Pipa's time. Her boyfriend at the time was Argentinean and he missed a snack he found in his hometown of San Lorenzo. "I spent a year testing the recipe, and I practically specialized in finding the perfect empanadas," he says. According to her, the dough should be very thin, and the filling should be juicy.
The public will be able to choose from two classic flavors: criolla (meat, green olives, boiled egg, raisins, cumin and hot paprika) and fugazeta with a touch of Minas Gerais (canasta cheese instead of mozzarella, onion and oregano).
Another option on their menu is ossobuco stew with saffron risotto, a comforting and hot dish made for cold weather. Seasoned with bay leaves, thyme, red wine and vegetables, the meat takes a long time to cook. "I use ossobuco bone marrow, so the stew has a different taste. It's unusual," he notes. Below is the Milanese risotto.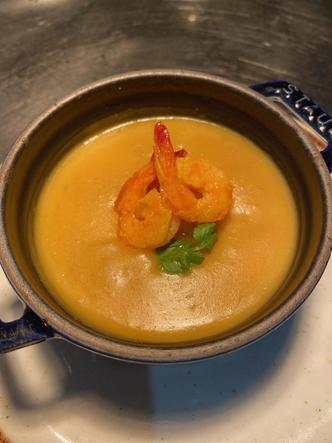 If you'd like to learn more about Sophia's work, it's good to know that she will be opening her space to the public starting this month for signature dinners. The first edition will take place between the 23rd and 25th and will feature Chef Cadu Evangelist from Ribeirão Preto (Spain), also part of this new generation.
In the future, foods that will be consumed at home will be produced in the kitchen, including empanadas, pasta and the famous foie gras.
A fig will always have at least one name on the outside. In this issue, 33-year-old Rubens Salfer, known as Katarina, is the chef of the DOM restaurant Alexa Atala, originally from São Paulo.
In addition to being in town for the first time, he is delighted to be invited to be alongside this new wave of chefs who, like him, "fly under the radar" but who have everything to stand out for quality. his work. .
"Generating Change"
"I believe that this new generation will be a generation of change, a much-needed and long-awaited union of chefs for the cuisine of Brazil. We must understand that the more we are united, despite the differences, the more strength and visibility we will achieve," defends the chef, who was born in Joinville (South Carolina), hence his nickname.
At the age of 18, Katarina left for Portugal for an internship. The plan was to stay for six months, but he ended up living in Europe for eight years. He visited three star restaurants: Vila Vita (Portugal), Michel Guérard (France) and Arzak (Spain). "Chef Juan Marie Arzak was my godfather in gastronomy. When I decided to return to Brazil, he called Alex Atala and introduced me," he says.
Work on the DOM has been going on for nine years. Katarina started as an intern, went through all the squares, took over the leadership and today she is engaged in the bureaucratic part and helps the team in creating the menu.
At the same time, he organizes his own events and is a judge on the reality show "Merendeiras do Brasil" created by the Ministry of Education.
The chef believes in the cuisine of products (always looking at Brazil, as he learned from Atala) combined with taste. And that's what he wants to show in BH.
Aligo dumplings, made from potatoes, Minas cheese and Santa Catarina type gruyere, breaded in instant noodles and served with pepper and pineapple jelly, link some episodes of their history.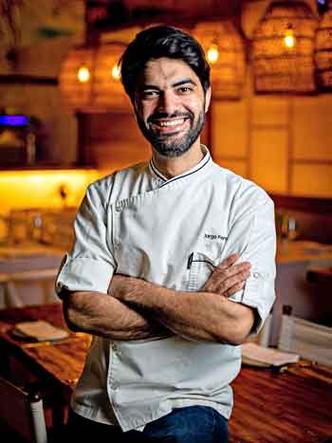 "Aligo has been a DOM classic for a long time, and I made this muffin for employees from what's left." The combination of cheese and jam enlivens his visit to France.
Katarina's origins are remembered in the shrimp bobo. Seafood is popular in his state and he grew up eating it at home. Just boil the cassava in shrimp broth, beat and add pumpkin. Finished with grilled prawns and oil with aromatic herbs (especially chicory from Para).
The third dish pays homage to Minas Gerais: a pot roast with vegetables and corn grits, seasoned with butter and onion puree.
"This combination is very typical of Minas, where we find a charming food, stew, with this bottom of the pan, which is almost like a hug, a hello. Tastes like grandma's house," he says.
Jump in Asia
Coming back from Spain to open a restaurant in BiH was no longer easy. Especially with a different concept. Gabriella Guimarães and Guilherme Furtado, both 34, are the creators of Okinaki, focused on contemporary Asian street food.
Ten months after the opening, they participate in the first festival in the city and want more people to know about these fragrances.
At the suggestion of the restaurant, none of the dishes require the use of cutlery. Both bao (steamed bun) and onigiri (rice triangle) are meant to be held and swallowed. The former has a sirloin bowl stuffed with oyster sauce, ginger, and green onions, while the latter is spiced with salmon and wasabi pate, ponzu sauce, and wasabi furikake (a mixture of seaweed and dried fish).
To share, chefs recommend the melon saketini, which has become an icon of Okinaka. The fruit is soaked in sake, shichi togarashi (spice mix) and lemon zest, and turns into a strong cocktail. With a toothpick, you string the cubes served on the shell into a bowl of ice.
In addition to being Figa's curator, Jorge Ferreira is involved as chef at Olívia, a restaurant in Nueva Lima that serves Mediterranean-inspired dishes and focuses on simplicity to improve products.
Be sure to grab a serving of pork knuckle truffles, which are favorites on the menu. The idea is to really look like an Italian delicacy, but when you take a bite, you are surprised by the juiciness of the truffle-flavoured meat. Another suggestion is an octopus vinaigrette with tomato and red onion salad.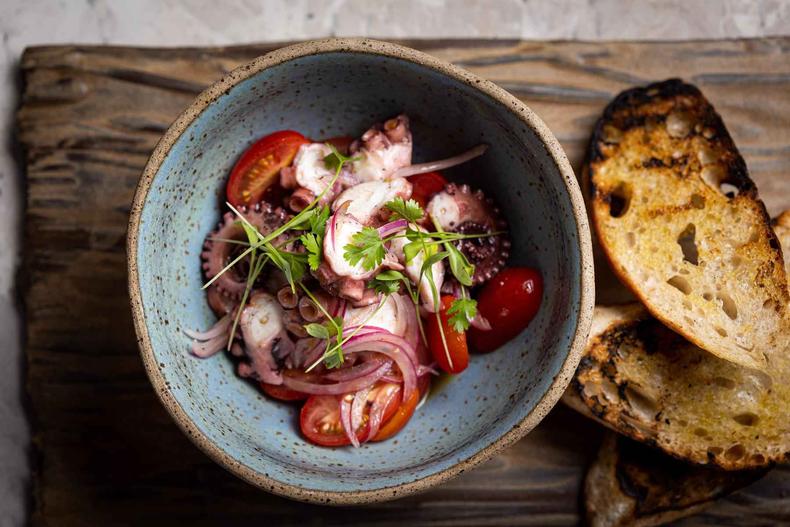 The chef will take the opportunity to launch duck rice, which will then enter Olivia's menu. "This dish is French, but I add my Mediterranean flavor with Spanish chorizo ​​and bay orange, which grows in southern Spain," he elaborates.
Raffaele Autorino from Popolare completes the list of participants with a real Italian pizza made by hand; Eliza Dayrell of Espetacular Doceria with French bakery-inspired desserts; and mixologist Thiago Santos of The URBN with bold signature drinks and updated classics. The festival bar will continue to serve beer and wine.
The idea of ​​the organizers is that Figa will take place twice a year and occupy different places in the city, always with new chefs and restaurants. A summer edition is planned for January.
Aligo Cake with Pepper Jelly and Pineapple (Rubens Salfer)
Ingredients
1 kg of asterix potatoes; 20 ml fresh cream; 20 ml whole milk; 10 g unsalted butter; 200 g Minas cheese; 100 g gruyère cheese; 1 pack of instant noodles; 1 egg; 20 ml of milk; 200 ml corn oil
way to do
Add a whole potato to a pot of water and cook until soft (a fork comes in and out easily). Remove the potatoes from the water, peel and pass through a meat grinder. Put on fire in a saucepan along with butter, cream and milk. Cook until all ingredients are combined. Gradually add cheeses and continue stirring. When everything is melted and well mixed, turn off the heat and let cool. Divide the dough into balls of 30 g and roll. Dip in egg, milk and broken instant noodles. Tighten well and repeat the procedure. Freeze the balls so that they do not melt when frying. Heat the oil to 200 degrees and quickly fry (just for color). Bake in the oven for 5 minutes at 180 degrees. Serve with your favorite jam.
service
Gastronomy and Art Festival (Figa)
Date: from 16 to 18 June
Time: from 12:00 to 22:00
Place: Mangabeiras Palace Park (Professor Jalma Guimarães Street, 157 – Mangabeiras)
Tickets: from 45 BRL